Clean Supply of Forage & No Waste
The Forager has several design features which ensure your horse has a continual supply of clean forage and doesn't waste a drop!
The Forager Regulators are designed to allow horses to only take small bites of forage which prevents them from pulling forage out and dropping it on the floor! This reduces waste and stops horses walking through the hay and mixing it with their bedding.

The robust slit sides are designed to allow air flow and let light in to ensure the forage remains fresh even in the bottom.

The Forager is fully collapsible meaning it is very easy to keep clean. Clean slow feeder equals clean palatable hay.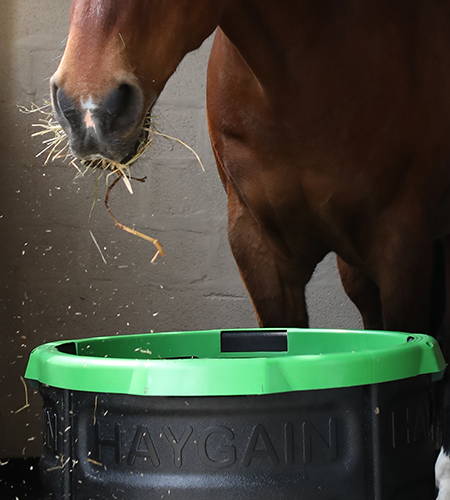 FORAGER PROFESSIONAL RIDER REVIEWS
"My new horse 'Fanta Boy' loves it and eats better from the forager than he does from the floor! Halltown Harley my 5* horse loves his and always uses it, it helps him to eat well and not waste hay dragging it through the bed!"
GEORGIE SPENCE
5* Eventer, Team GB
"Millie and Dutchie do leave a little at the bottom. But they used to do this previously anyway, which is why their stables got messy with uneaten hay. Much tidier now!
HANNAH BIGGS
International Dressage Rider
More Benefits of The Forager
Providing a clean supply of forage is just one of the many benefits of The Forager. The Forager is the ideal slow feeder that encourages a natural slow and steady way of eating forage to ensure your horse stays healthy and happy.