The Forager is the ideal slow feeder that ensures a constant and steady flow of forage into the horse's gut to protect digestive health and aid in a healthy digestive system.
Horses are natural trickle feeders that require a consistent supply of forage. This not only protects the stomach but also promotes consistent fermentation, effectively keeping the hindgut weighted and motile, thereby preventing conditions that contribute to Colic.

Helps to reduce the risk of Gastric Ulcers – a steady supply of forage to the stomach creates a protective mat on top of the stomach's contents preventing gastric acid splashing onto the sensitive upper region. A good supply of saliva also acts as a buffer against gastric acid.

Promotes saliva - consistent chewing of small mouthfuls of forage maintains a flow of saliva which is crucial for the stomach and digestion.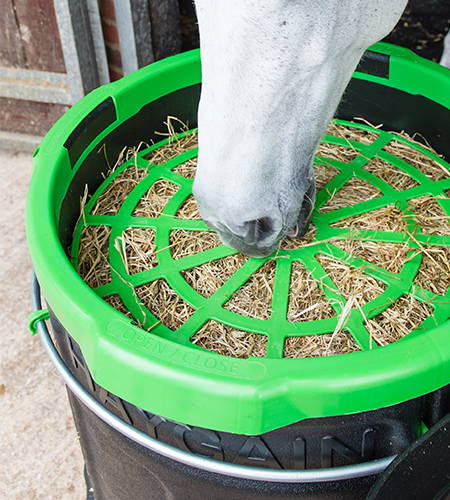 "We are very pleased with the Forager and would recommend it to anyone who's horse has undergone colic surgeries like mine."
TARA HOOPER
"Extremely pleased with the product, love the tidy bed, tidy water bucket and the fact their hay ration is lasting so much longer!"
More Benefits of The Forager
Digestive health is just one of the many benefits of The Forager. The Forager is the ideal slow feeder that encourages a natural slow and steady way of eating forage to ensure your horse stays healthy and happy.