65% reduction in Inflammatory Airway Disease
Research shows that using a Haygain hay steamer can reduce respiratory inflammation by two thirds
Why Haygain hay steamers?

The Haygain hay steamer has been shown conclusively in scientific trials eliminate harmful mould, fungal spores, bacteria and dust mites found in hay; and remove the health threat from respirable dust.
Research has shown that 88% of horses suffer from Inflammatory Airway Disease (IAD) and that steaming hay with a Haygain hay steamer reduces the incidence by 65%.


"Haygain is the only method of steaming where I am confident the hay is steamed thoroughly and reaches the required temperatures to improve the hygiene quality of hay with no detrimental effects."
Dr David Marlin, Equine Exercise Physiologist, Professor of Oklahoma State University.
"...if I can remove something I know is a potential cause of any form of allergy...at limited cost...it seems like a no brainer"
Chad Davis DVM, Vet Consultant
Source: Dr. Julie Dauvillier and Dr. Emmanuelle van Erck-Westergren, 2018

"I am 8 months into my Haygain ownership.The Haygain steamer saved their lives and mine."

Susan Cady Lima, Michigan.
"It's been 5 years since I bought my Haygain steamer.It's hands down the most important thing I have ever purchased for my horses' health."

Lori Whitman, Wisconsin
"My Haygain hay steamer saved my horses' life! Thank you so much Haygain!"

Martha Ferguson, Toronto

"We've been using a Haygain steamer for 9 months and it has made a tremendous difference for us.Belle's breathing is better and her coat is glorious."


Charlie Lieske, South Carolina
"If I give my horses dry hay it makes them coughbut when they have steamed hay the coughing stops. I wouldn't be without it."

Shiela Williams
"...not only is it helping his respiratory problems (wheezing, coughing, difficulty breathing...) he absolutely loves the steamed hay."

Carol O'Neill

The signs of respiratory disease aren't always obvious.
But the effects can be numerous.
Aside from potentially high vet bills, there is considerable impact on the quality of the horse's life - coughing, nasal discharge, increased respiratory rate, increased temperature, abnormal breathing, frequent swallowing, and blood in the nostrils.
Also reduced exercise performance as well as slower recovery times.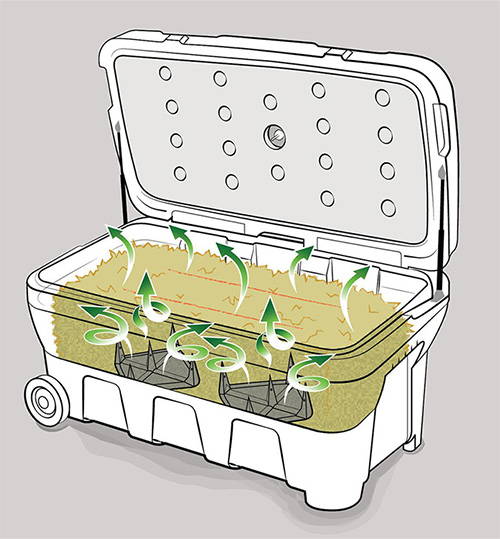 Double skinned thermally insulated chest
Unique patented spike system pushes steam to the centre outwards
Ensures the steam is uniformly distributed throughout the hay
Aluminium plates at the base heat from below for optimum efficiency
Robust steam generator ensuring chest reaches over 100 degrees
Steamer for every size of barn (the largest steamer catering for 4+ horses)